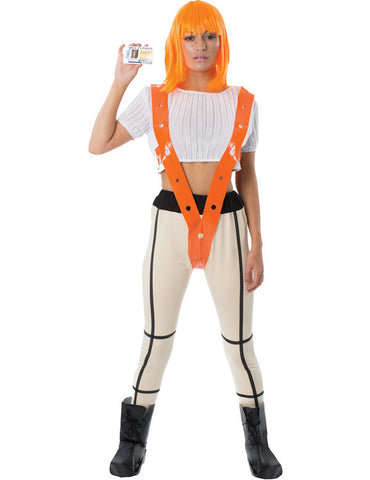 LeeLoo Costume
The Fifth Element costume includes;

*white sheer blouse with attached orange harness
*Nude leggings
*Bootcovers
*wig

SMALL-Size 10-12
Bust 34-36"
Waist 28-30"

MEDIUM-Size 12-14
Bust 36-38"
Waist 30-32"

LARGE-Size 14-16
Bust 38-40"
waist 32-34"
N.B. This costume cannot be shipped to the United Kingdom

Leeloo is famous from the hit 1997 movie "the Fifith Element".
As part of the plan to save the earth from imminent destruction scientists construct a humanoid woman they call Leeloo. Unhappy she escapes and jumps off a building crashing into the taxi cab of Korben Dalas and from there the adventures begin.
---