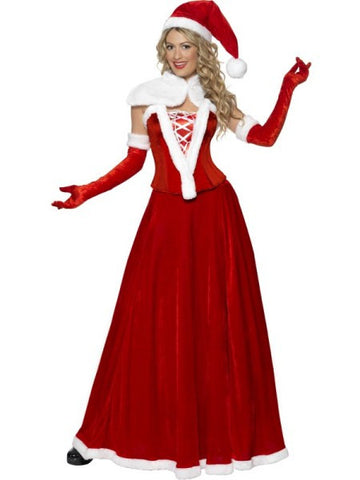 Ms Claus Costume
Ms Santa Claus Includes;


*Red Boned corset
*White fur collar
*Long red gloves
*Hat
*Long red velvet skirt with netted petticoat attached

Small Uk size 8-10.
32- 34" Bust.
Waist up to 30"
Waist to hem 39"

Medium; Uk size 12-14.
38-40" Bust.
Waist up to 34"
Waist to hem 40"

Large; Uk size 16-18.
42-44" Bust.
Waist up to 38"
Waist to hem 41"
Mrs Claus or Miss Claus outfit

Behind ever great Santa lies a Ms Santa or Ms Claus as she prefers to be called.
This elegant Ms Claus costume is the perfect to our Santa costumes as even
Santa himself can sometimes do with a woman's touch. An elegant Christmas dress for your Office Christmas Party or as a surprise for Father Christmas on Christmas day.
---